---
The Grand Duke - Not such a "broken down critter"
As the finale of this past season, we presented a genuine premiere — The Grand Duke, Gilbert & Sullivan's final collaboration. This was the first time in our entire 63-year history that the Lamplighters had presented a fully staged production of this amazingly neglected work. The show was a resounding success, garnering raves from audiences and critics alike.  Many patrons have asked us why we never presented The Grand Duke before. So . . . what is the answer to this question?
Since its premiere in 1896, The Grand Duke has always had somewhat of a bad reputation. Along with Utopia Ltd., its predecessor at the end of the G&S canon, it is often seen as a failure, and is rarely performed. When these two works were written, Gilbert and Sullivan were no longer working together as closely as they had in the past. The serious quarrel over the cost of a new carpet for the Savoy Theater, and the resulting lawsuit by Gilbert against Sullivan and Richard D'Oyly Carte, had left them both embittered. When they agreed to work together again, Sullivan no longer felt disposed to request edits or cuts from Gilbert, and the latter's tendency towards overwriting scripts and lyrics was more marked than it had been in the past.
As a result, Utopia Ltd. and The Grand Duke suffer from more convoluted and plot-heavy libretti than the earlier masterworks. They were both relative box office failures at their premieres. The D'Oyly Carte opera company itself mounted only one subsequent production of Utopia Ltd. in its entire history, and never presented The Grand Duke in another fully staged production at all.
For these reasons, until relatively recently, most G&S Companies around the world have avoided producing The Grand Duke. Although the Lamplighters did produce Utopia, Ltd. on two occasions (in 1979 and 1999), the only previous performances of The Grand Duke (in 1981) were in a truncated unstaged concert version, with narration in lieu of dialogue. Fearing that it would fail to cover its costs, the Lamplighters' General Director at the time turned down Artistic Director Gilbert Russak's requests to mount a fully staged production.
Having participated (in the title role) in the earlier concert performances, I had always cherished the desire to see the Lamplighters actually mount a full production. Doing so became imperative with the inauguration of the Lamplighters' CD project of recording the entire G&S. Clearly, Sullivan's score was excellent. Less so Gilbert's overwritten libretto. Uncut, The Grand Duke runs over three hours. Yet after years of listening to available recordings and acquainting myself with the entire libretto, I became convinced that it was actually pretty funny, and could work well in a staged performance. All the show really needed to succeed was some judicious editing of the libretto.
 
To this end, I convened an editing committee composed of Stage Director/Artistic Director Emeritus Barbara Heroux, Music Director Monroe Kanouse, and myself. Over the course of a few months, we managed to pare at least half an hour off the running time. This was done simply by eliminating excess verbiage in the spoken dialogue, and trimming a few verses of song, sometimes by combining the relevant points in one or two verses rather than three or four.
Yet in the end, although the success of our recent production may be attributed primarily to this editing process, the magnitude of its triumph must be credited to three other factors: the brilliant stage direction of Barbara Heroux; the inspired musical direction of Monroe Kanouse; and the amazingly talented cast we were able to assemble. Such was the excitement generated by this production, I can unhesitatingly promise that The Grand Duke has now entered the Lamplighters' repertoire, and will definitely be presented again as part of the complete canon of Gilbert & Sullivan's works.
~ Rick Williams, Artistic Director '78
---
 Bumboat Women of Olde England
"I'm old, my dears, and shriveled with age, and work, and grief,
My eyes are gone, and my teeth have been drawn by Time, the Thief!
For terrible sights I've seen, and dangers great I've run-
I'm nearly seventy now, and my work is almost done!"
                               From The Bumboat Woman's Story from the "Bab Ballads" by W. S. Gilbert
 

Early in the story of H.M.S. Pinafore, Mrs. Cripps aka Little Buttercup, boards with a basket of goods for sale and tells us a little about herself and her wares. This character, a bumboat woman, draws heavily from the Bab Ballad quoted from above. But what is a bumboat, and who were the bumboat women?
 
A bumboat was a smaller boat that traveled between shore and the ships that were anchored offshore, selling produce and other items not normally found on board. The name may be derived from a combination of "boomschuit", the Dutch word for a canoe, and "boat".

Originally the boats were scavengers and would be paid to remove waste from the ships. They would also sometimes buy foreign commodities from the sailors to sell on land. It was not entirely unusual for the more ruthless among them to cut ropes and buoys from the ships and steal them, as well as furniture and cargo. This led to the Bumboat Act of 1761, prompting the Thames Magistrates' Court to rule that any bumboats operating between Lower Hope Point in the Thames Estuary and London Bridge could only sail during daylight hours and must be registered with Trinity House and marked as such. They were also subject to random searches. By Buttercup's time, in the Victorian era, the trade was once more a mostly peaceful and lawful one.


Bumboat women would have needed to be pretty tough, as they would encounter poor weather and rough seas, lecherous sailors, and other dangerous conditions. Before the mid-19th Century they were also somewhat notorious for criminal activities such as smuggling and prostitution. After being at sea for a very long time most of the sailors would be craving more than snuff, tobaccy, peppermint drops and the other items mentioned in Buttercup's song: liquor and women would be high priority for many. For poor women, prostitution was usually the best paying occupation, and oftentimes the bumboat captains would only allow the most attractive girls on board, to be sure that they could make money. Once in port, most ships' captains actually allowed prostitutes onboard, and the men were in any case already issued with large quantities of booze - the standard allowance was a gallon of beer a man per day. One sailor wrote that "'with the women came drink and what with the drink and the women the ship's discipline came to a stop." It was not unusual, however, for the sailors to fall in love and marry these women, or for the women to follow the ship on land, if said ship was travelling between home ports, to stay close to their sweethearts.

Of course Buttercup, the most famous bumboat woman of all, would never go in for such things, although it does seem that she could have a little bit of a mischievous streak.
H.M.S. Pinafore will play from July 31st through August 23rd throughout the Bay Area. Full details are available on our website.
~ Joanne Kay '07
---
The Pirates of Piedmont: Reflections and Connections
When I think back on the initial reasons I wanted to bring the Lamplighters' Pirates of Penzance Residency to the Piedmont public school where I teach 4th grade, three things stand out. Foremost was the chance to provide a quality performing opportunity to my students without having the sole responsibility for casting, rehearsing, costuming, and producing a performance all within the constraints of an already overflowing curricular schedule.

Second was my interest in continuing my own connection with the Lamplighters, a company I had adored performing with when I first moved to San Francisco in the 1980s and was unexpectedly and happily reconnected with last year after a 24-year hiatus.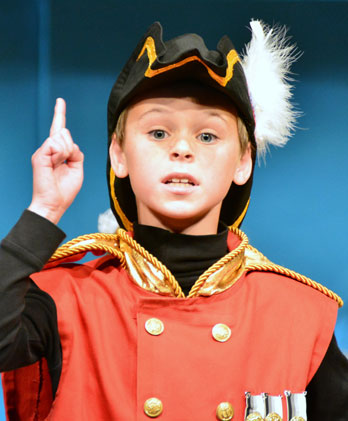 And third, well, as Frederic says, "I am the slave of duty." In this case, I felt a sense of duty about bringing G&S back to Piedmont, a community that had nurtured a generation of Gilbert & Sullivan lovers – and indeed many Lamplighters – through the dedicated and loving efforts of Alan Harvey (a beloved former Lamplighters performer/General Director who the theatre at Piedmont is named after) during his 19-year teaching career at Piedmont High School.

As it turned out, all of these goals were realized, along with many other unforeseen benefits. I knew that my students would be excited about the idea of doing a "class play," but I had some trepidation about announcing that it would be a musical – and not a "junior version" of a familiar Disney movie musical. When I introduced the idea of a Gilbert & Sullivan operetta I was surprised by how eager students were to participate in something so foreign to them – both the language and the music are far from the kind of thing they are exposed to in their usual choices of entertainment. And yet, they were excited to participate, studying the script before deciding what parts they wanted to audition for and competing passionately for roles. There was so much interest in the larger roles, in fact, that I assigned every chorister a role to understudy to give everyone the chance to feel more invested in the production.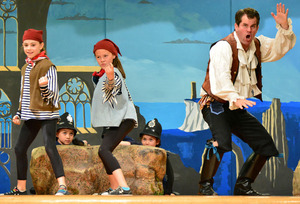 Even before auditions, several students had memorized the Major-General's song, having discovered countless renditions on YouTube. (I learned from my students that YouTube is also home to a stop-motion animated Lego version of "Pour, oh Pour the Pirate Sherry"!) I received a 5-paragraph essay from a girl who was adamant about convincing me of the many reasons it would make sense to cast a girl as the Major-General. (It's clear she'll play Princess Ida one day.) Several girls had memorized Ruth's song before auditions, and one parent required several e-mails to be placated about her daughter not being cast in the role.

The six weeks we spent preparing for the performance were filled with focused rehearsals and classroom projects with curricular connections. These included making Pirate Dictionaries with definitions of the show's most challenging words and expressions; painting scenery; and studying theater playbills to create our own program with student-written bios (my favorite of which included the phrases, "He likes pickles and eats two a day").

But more memorable are the unexpected thrills, like hearing students buzz about which versions of Pirates they had watched online, what members of their families had been in a performance when they were younger, and most delightfully, hearing students spontaneously singing "Climbing over Rocky Mountains" together rather than their typical Taylor Swift tunes.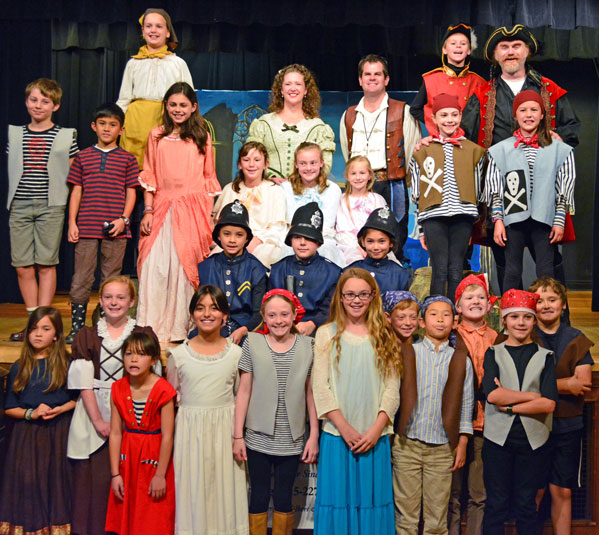 The 45-minute performance during the school day was enjoyed by over 120 fellow students, and more than 60 parents and family members who took time off from work just to be there.

Among the many insightful comments I received was one from the principal, noting the uniqueness of this opportunity for students not only to perform, but also to see a professional performance at the same time. One parent astutely observed that having the students perform with adult professionals directed their focus onstage and ultimately raised the level of their children's own performances.

In the Q&A session after the performance, a 3rd grade girl raised her hand and asked, "Will we get to do this next year?" How many other 8-year-olds are looking forward to being in H.M.S. Pinafore during their next school year? Thanks to the Lamplighters' spectacular Education Outreach Program, I now know there are many.
 
~ Martin Lewis, '88
We were fortunate enough to have Martin and the Wildwood students as special guests at our Too Much Happiness Spring party and fundraiser this past May (pictured below). They performed several excerpts from The Pirates of Penzance including a "patter-off" between the young Major-General (pictured above) and our own F. Lawrence Ewing. The students were wonderful and we look forward to seeing some of them on a main stage somewhere in the (not too) distant future!

For more information on our Pirates residency and other Education programs please contact Ellen Kerrigan at ekerrigan@lamplighters.org.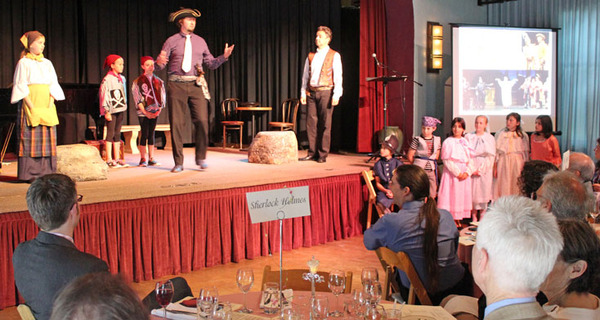 ---
Welcome New Company Rep - Chris Uzelac
We are delighted to announce the appointment of Chris Uzelac as Company Representative. The Company Rep serves a two-year term and acts as a liaison between the performing company and the Board of Directors and Chris was the nominated member from a survey voted on by the company. The board unanimously confirmed the nomination. 
 
Chris has begun his second decade of performing with the company, having recently performed the title role in The Grand Duke, and is currently in rehearsals for Bill Bobstay/Sir Joseph Porter in H.M.S. Pinafore. He has also been an important contributor to the writing of six different Galas, twice as head writer. We know he will be an excellent representative and he already has some good ideas about his role.  
 
We would also like to officially thank Kelcey Poe for her extended time on the board as our previous representative.  

---
Donor Spotlight
If you were able to join us for our Too Much Happiness fundraiser in May, then you probably noticed the spirited lady who bid on—and won—a shiny new triangle and the opportunity to accompany the performers on the song "Never mind the why and wherefore," a.k.a. The Bell Trio from H.M.S. Pinafore, at the event, Lamplighter friend and donor Edith Gladstone graced our stage with her charming musical performance, while joining a number of other donors who also showed their support for the Lamplighters that afternoon.

A valued patron for many years, Edith attended her first Lamplighters performance in 1971. "I came to it honestly, and I also married into it," she says. "My father was a singer, and was in a production of The Yeomen of the Guard. So I always liked G&S." When she met (and later married) Mel Gladstone, who had supported the Company since its early days, the connection to the Lamplighters was strengthened. In time, other family members also became involved, especially their daughter Emily, who has been an active Company member since 2008.


Edith honored Mel after his passing by establishing the Gladstone Family Fund for Artistic Excellence, an annual giving circle of donations for Lamplighters Music Theatre, in 2008. The initial year's gifts provided pivotal funding for our 2009 production of My Fair Lady. Since the Fund's inception, donors Edith Gladstone, Carla X. Gladstone, and Emily Gladstone Cole and David Cole, in addition to numerous Gladstone family friends, have made nearly $70,000 in total gifts for the Lamplighters.

The Gladstone Family Fund provided additional, strategic support for the Lamplighters this year in the form of a $15,000 challenge grant that was matched by new and increased gifts from Company members. Lamplighters Music Theatre is humbled by the generosity of the many performers, musicians, and creative staff who donated this year, and is especially grateful for the philanthropic leadership of the Gladstone family over the decades.

Although Edith's performance in May marked her first as a Lamplighters musician, she is no stranger to the limelight—Edith also joined the fun onstage in a speaking walk-on role in our 2011 Gala, It's a Mad, Mad, Mad, Mad Amazing Race Around the World in 79 ½ Days. When asked about her recent triangle debut, Edith says, "It was great fun, of course. I was excited to be able to participate with Baker Peeples, and Lawrence [Ewing] and Jennifer [Ashworth] and the other performers. I was very passionate about that triangle."

Her rousing performance made that passion evident, and brought a smile to many faces. Edith's enthusiasm and friendship makes the support the Gladstone Family Fund provides irreplaceable. Thank you, Edith, to you and your family, for your involvement with the Lamplighters. We look forward to another great year ahead!
 
---
Wish List
In addition to donations of time and money, the Lamplighters always appreciates thoughtful in-kind gifts. The following is a short list of items that would make our mission easier: newer Mac monitors; Intel iMacs or Mac tower computers; an iPad, plain white paper; vacations, gift certificates, air miles, and other items of value for our Gala auction.
Please contact us at info@lamplighters.org if you think you have something of interest. Lamplighters Music Theatre is a registered non-profit 501(c)3 organization and all donations are tax deductible to the extent allowable by law. We thank you for your continued support!
---
The Pirates of Penzance CDs now available
We now have 4 CDs in our collection and will soon be adding The Grand Duke, HMS Pinafore, and Ruddygore. CDs can be ordered from our online store by clicking on the images below. To preview individual tracks or order digital downloads click here. You can also sponsor a track on our upcoming CDs by clicking here.
To sponsor a track call us at 415-227-4797 or pay online here. Alternatively you can email us at info@lamplighters.org to reserve your song then send a check to Lamplighters, 469 Bryant Street, San Francisco, CA 94107. Just be sure to note which track you would like and how you would like to be listed in the comments section.
---
Our Iolanthe CD in Opera News' Top 12 Releases of 2014
The CD of our 2013 production of Iolanthe was listed in Opera News Magazine's Top 12 best recordings of 2014. Their best-of-the-year lists can be viewed here. The original review is also available for viewing here.
---
---
Iolanthe - Opera News Top 12 Releases of 2014
Our Iolanthe CD was named as one of Opera News magazine's Top Twelve best releases of 2014! Read the original review here.
---